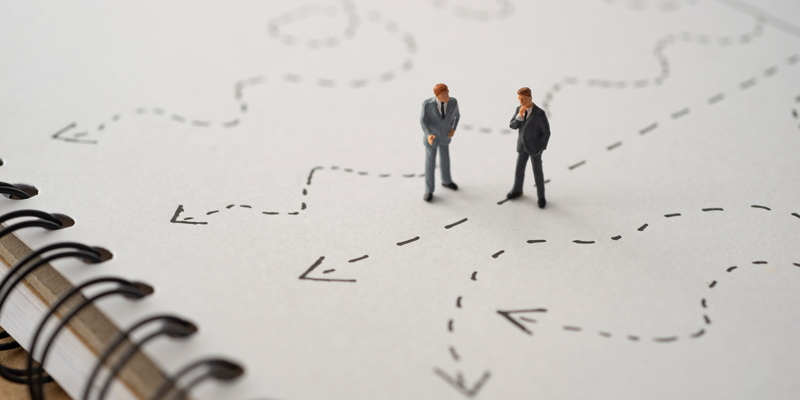 A successful core bank conversion, RDC conversion, ACH/Wire platform upgrade or other system platform change is about choosing the right route for your bank. While some banks have a clear path in mind, it is a good idea to explore all alternative routes before selecting a course of action for your core conversion.
What Are the Routes to a New Core Banking Platform?
Fundamentally, there are two routes to a system platform change:

1. Big Bang. This involves a full replacement in one go.
2. Phased Implementation. A staged approach can be further broken down into two core offerings:

Build and Migrate. The new offering gets established on the new core system and customers are migrated across gradually.
Progressive Migration. Business is sequentially migrated to a new platform.
Each method has its pros and cons which can be determined via a detailed assessment of risks and costs. The core conversion route taken will depend upon the bank's business drivers to include:
Why the bank is changing its core systems
The nature and size of the business
The urgency of the project
Appetite for risk
Number of products
Complexity of the IT
Effect of risk on the business
Financial impact of the conversion - does the bank need a fast result at a lower cost but higher risk, or can it afford to take its time and cut risk?

The Pros and Cons of a Big Bang Approach
Big bang projects have the potential to cost less and deliver in shorter time frames but carry greater risk than a phased approach.
Advantages to the big bang approach:
Shorter implementation timeline if all goes to plan
Cost savings from less time being spent maintaining both systems
Intense project focus - all resources focused on change management at one time can be a positive experience
Smaller, less complex customers can benefit from a swift transition
Disadvantages to the big bang approach:
Every issue and glitch is seen by everyone including end users and stakeholders which can undermine the success of the project
The rip and replace approach carries high risk with no time built in for parallel testing
Return on Investment (ROI) can not be realized until the entire project is completed
One glitch can delay the whole project
The Big Bang approach is not for the faint hearted and is arguably better suited to smaller, less complex customers.
The Pros and Cons of a
Phased Implementation
Crossing over to a new system in a series of planned waves allows banks the chance to migrate (and iron out any bugs in the process) lower tier customers first before hitting the higher value tier 1 customers. Phased implementation can be conducted in two main ways:
1. Build and Migrate
Build and Migrate has become possible through the introduction of modular software. The project is built in parallel to the existing system and customers are migrated across over time. The time to full migration and project completion may be longer but time and costs are predictable.
2. Progressive Migration
Progressive migration, also known as waved migration, takes place in stages. Customers are divided into tiers and migrated to the new system a tier at a time. This approach is often adopted by big banks and suits large complex organizations who want some early business benefits but very low risk.
Advantages to phased implementation:
Lower tier customers can be moved quickly across to the new system realizing ROI in a comparatively short time
More time for parallel testing with overlap of system rollout
Can be used to target early adopters who may be more understanding of bugs
Disadvantages to the phased approach:
Having to maintain the old system brings an additional cost
The intensive 'go live' period is repeated, and the project can last for a longer duration
Focus can become diverted to the 'go live' tier leaving other tiers neglected during testing phase
Find the platform that best fits your strategy and plan to provide a first-class customer experience
Whether you opt for a phased implementation, or a big bang approach will depend upon your bank's individual requirements. Whichever route you choose, customer experience should be prioritized at all times. Outsourcing to a specialized contact center to help your clients implement new banking software, install RDC scanners or learn how to set up their ACH templates is an efficient way to ensure excellent client experience during a core conversion or system upgrade.
Our Technical Assistance Center (TAC) is a contact center and proprietary scheduling software that handles your client's onboarding and training needs. We will work with you to understand your requirements and map out a plan to complete your program goals in an efficient timeline.
Got further questions? Book a call to discuss your support needs.