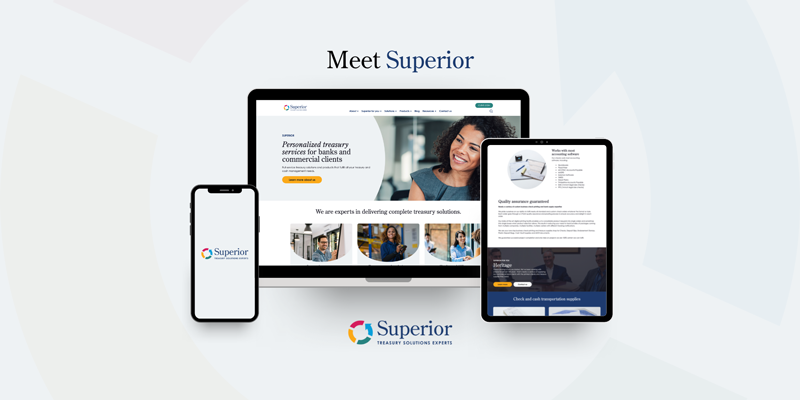 'Check printing and hardware distribution for banks and businesses will continue to remain a core competency at Superior. Banks will always need quality, secure, trustworthy partners. Our commercial bank partners now look to us for more solutions, more flexibility and automation in this digital world. Our rebrand marks Superior's focus on delivering first-class customer experience to our banking clients as solution experts. Helping make the best...Superior'
Kevin Traut, Superior's President
Why We've Switched to Superior
We've shortened our name from Superior Press to Superior to reflect our ever-broadening expertise.
No longer are we purely print and hardware fulfillment experts - we're customer experience experts offering state-of-the-art technology solutions and we felt it was time our name reflected our evolution.
A Century of Innovation
With almost 100 years of experience in check printing and treasury supplies provision for banks, our rebrand from Superior Press to Superior signifies a turning point in our business' history.
We have evolved with our commercial bank and business clients and our change in direction reflects the changing financial market. With checks in decline since the 1990s, popularity in electronic payment methods has soared. Client needs aren't the same as they were fifty, twenty or even five years ago and we have remained at the forefront of the ever-evolving customer service model.
Superior has kept pace with the changing needs of our clients, and we've listened to their requirements. Our priority has always been to keep excellence in customer service at our core, and we felt it was time to demonstrate our wide range of expertise.
Our Story
In 1931 Superior Press was founded as a commercial printer serving the banking industry. Our history is rooted in printing checks, deposit slips and other customer banking forms. As banking needs changed, our printer services expanded. In 1995 when Bob Traut purchased the company, we expanded beyond traditional printing and started to produce other treasury supplies. We rapidly developed a strong reputation for impeccable customer service and launched the 'One Stop Shop Treasury Supply Desk' in 1999. The following years saw more innovative solutions for bank clients, including becoming a nationwide partner to banks for Remote Deposit Capture services and bridging the service gaps in the CIT model with Remote Cash Capture.
At the early stages of the pandemic in 2020, 'Technical Assistance Center (TAC)' was launched focusing on the digital customer experience beyond the inbound call. TAC guides the banks' clients through the changes involved in technology transitions, such as software updates and system changes.
The unprecedented success of Technical Assistance Center signifies how far we have come since our humble beginnings in 1931. We have considered changing our name and branding for a while, but the time felt right to evolve our identity with the success of TAC.
Evolving with the banks
"It's simple: we are here to make the bank's life easier. Customer experience has always been at the heart of our business and - with our full suite of conversion support tools and technology partnered with the best client delivery team in the banking industry- it was time to drop the 'Press' from our name."
Steve Traut, SVP sales at Superior
With a long history of expertise in customer experience, we can offer banks a wide range of solutions to the headache of system upgrades and core conversions for their clients. Our dedicated delivery team will manage the entire transition customer experience on your behalf to deliver your clients an outstanding service and a seamless transition. Our solutions take the stress out of the change process, giving you and your team more time to focus on your other priorities.
Our Identity May Have Changed But it's Still Business as Usual
"The brand marks a turning point in our business model and gives us the opportunity to better communicate our breadth of expertise in today's digital world. While our name and visual identity have changed, we are still the same company - we haven't changed."
April Levin, VP Marketing at Superior
We've changed our logo to reflect our evolution with a colorful circle to convey a sense of cohesion. Our new color palette is bold, modern, and, most importantly, fun! We've shortened our name and revamped our website and collateral, but in many respects, we are 'business as usual'.
Printing and hardware distribution for banks and businesses continues to remain at our core, alongside digital solutions. Your day-to-day contacts at Superior are the same, and you will continue to receive the same Superior service that we pride ourselves on.
We are still the check printing and treasury-supplies company you know and trust, and customer experience remains at our core.
Our new name and branding marks our evolution from print and hardware distribution to customer experience specialists. Our mission remains the same - to make life easier for our clients.
We hope you like our evolution – we can't wait to bring you along on the journey!