At Superior Press in Santa Fe Springs, they're used to jokes about buggy-whip manufacturers. After all, their business seems almost as anachronistic: printing paper checks.
But even amid the rise of online banking, Superior has managed to boost its sales by more than 40 percent in five years thanks to the growing number of bank mergers and acquisitions.
The company works with the commercial clients of banks that are being acquired, making sure those clients have checks and other supplies adapted to the new bank's systems. It's not a sexy business, but it is one that helps companies make a smooth transition from their old bank to the new one, said Kevin Traut, Superior's senior vice president of sales and marketing.
"Banks don't want the client's first impression to be that there's an extra fee, or the bank going to the client and saying their supplies are wrong," Traut said. "We make that transition a little cleaner and easier."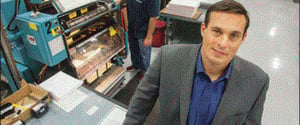 Superior first offered what it calls conversion services during the financial crisis, when many struggling or failed banks were acquired by other institutions. But this year was the company's biggest yet, as the bank acquisition market heated up in the recovery. In California alone, 15 bank mergers or acquisitions closed this year, up from 13 the previous year. Several more deals are set to close early next year.
Superior works on projects nationwide and has handled seven conversion projects in the last year and a half. The company can't disclose the names of most of its clients, but it has worked on several acquisitions by longtime customer Union Bank of San Francisco.
Through such deals, Superior not only makes money by selling more checks and other supplies, but also earns fees by providing service to bank clients.
For its fiscal year ended in July, privately held Superior said that it had revenue of $25 million, the 82-year-old company's best year ever and an increase of about 44 percent compared with 2008.
So far, Superior has worked on acquisitions by existing clients, but Traut said that he hopes to do more deals and expand the company's roster of bank clients next year.
There should be plenty of opportunities as banks continue to look for acquisitions and potential sellers see healthy offers, said John Ahn, president of Westwood brokerage and investment bank B. Riley & Co.
"I think 2014 will be a good time to be a seller," he said.
Old and new
Superior, founded in 1931, was on the verge of bankruptcy in 1997 when it was purchased by Bob Traut, Kevin Traut's father and the company's chief executive. At the time, Superior had sales of about $1 million annually.
The elder Traut, who had worked in the printing business making billboard signs and graphics for trucks, said the company had been badly run and that business improved as he made amends with dissatisfied clients.
Superior eventually grew out of its original Santa Fe Springs location and into two neighboring buildings. This year, it moved out of three buildings with a combined 45,000 square feet and now occupies a 63,000-square-foot factory and office building on Norwalk Boulevard. The company has grown from about 75 employees in 2008 to about 90 today.
Half of those workers are on the factory floor, where checks and deposit slips are printed, cut, bound and packaged for delivery. (Superior prints only business checks not consumer checks.)
The other half of Superior's employees are in cubicles, calling customers or answering calls from them. Some customers are simply reordering checks, deposit bags and other supplies; others are customers of a bank that has been acquired and have more specialized orders, such as new scanners used to deposit checks remotely and new software that allows scanners to communicate with the bank. They might even need training on how to process checks and other payments with the new bank. Also, checks often have to be redesigned. If businesses print checks in their office, their templates might have to change.
It can add up to a lot of hassle for bank clients, said Steve Dellasega, a senior product manager and the Dallas office of Union Bank who works on mergers and acquisitions.
"From the client's perspective, the change is potentially extra work," he said. "This is their first interaction with your bank, so you want to make it a positive experience."
Banks used to handle this kind of customer service in-house, Dellasega said, but, like many other functions, they're increasingly deciding it makes more sense to outsource the ordering and conversion of customers' supplies.
"Banks have taken a different view of what their core competencies are," he said. "Sometimes it just makes sense to move some of these things out."
Most of the conversion deals Superior has worked on have been for larger banks, but Kevin Traut said he wants to develop more business with smaller ones. Those institutions, even more than big banks, should be interested in outsourcing customer service work to Superior.
"As mergers ramp up, banks are looking for all the help they can get," he said. "Now we want to go downstream to smaller banks. They have even less resources."
Superior services
When Superior handles a bank conversion, it starts by getting in touch with the acquired bank's clients, letting them know how to order new supplies and in some cases walking them through any changes that need to be made to their own processes or software.
Smaller, lower-priority customers might get a letter or an email, while the highest-priority clients could get an in-person visit from Superior. Early next year, Kevin Traut said, the company will send sales representatives to the 500 biggest clients of an acquired bank.
In the case of recent Union Bank acquisitions, the bank asked Superior to produce and mail letters to affected customers and later to send customers a "welcome kit" of basic supplies, such as deposit bags and check endorsement stamps, Dellasega said.
Though Superior has grown, it's tiny compared with its competitors, which include Harland Clarke Holdings Corp., a San Antonio conglomerate that reported sales last year of $1.1 billion in its check-printing unit, and Deluxe Corp., a Shoreview, Minn., company that sold about $900 million in checks last year.
Both firms print checks and offer customer service and conversion services similar to Superior's. But Union Bank's Dellasega said he plans to stick with Superior.
"I've known them for quite a while," he said. "I think they're one of the best vendors around. They're unusually responsive and unusually high quality"