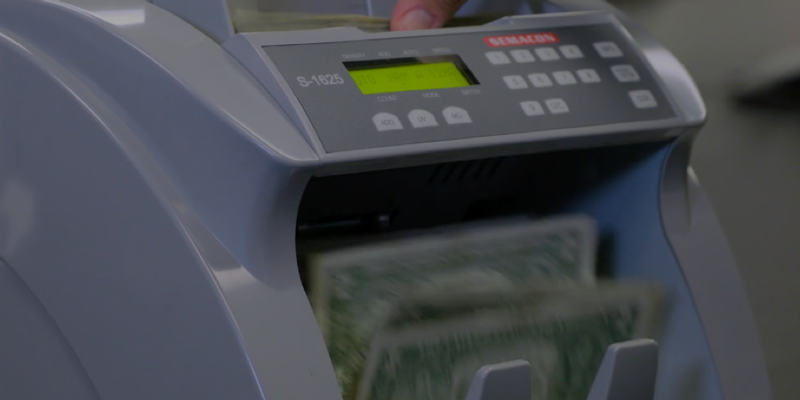 Recently, in a column for Inc. magazine, contributor and business blogger Jeff Barrett highlighted time management as one of the three most prominent challenges small business owners face today.
For small business owners who see time as a commodity, the article suggests the use of technologies to help reduce the time burden of daily work tasks.

For cash-centric businesses like retailers, convenience stores, gas stations and the like, there is a technology solution that proves to be as safe as it is efficient…
Cash counters and currency discriminators.
These cash-handling machines stand out as the most reliable time savers for retailers that handle large amounts of cash on a daily basis. Instead of manually counting cash, sorting bills and managing cash assets, cash-centric businesses gain back time to focus on high-value tasks that position your business for growth.
Cash Counters: The Basics
You may already know that cash counters and discriminators simplify time-consuming processes for companies of all kinds. What you may not be aware of is that, without this technology at your retail business, you are wasting valuable time manually performing cash counts, verifying totals and reconciling your books.
You can streamline your business processes by eliminating waste associated with tedious manual handling.
A cash counter can:
● Count currency for you. By quickly identifying currency, the cash counter will provide accurate cash counts quickly, saving you from manual counting and the human error that naturally comes with sorting through bills on your own.
● Identify counterfeit bills. The technologies that allow cash counters to identify different bills can also catch signs of counterfeit currency, reducing your losses by nipping any problems in the bud.
● Streamline end-of-day balancing. Instead of clearing out registers and manually counting your cash each day, you simply gather currency and put it through the machine, cutting time from the task and making life easier for you.
In short, a cash counter offers the tools to run your business more efficiently and securely, taking the monotonous tasks your team deals with daily and automating them.
Cash discriminators can take these benefits to another level.
Cash Discriminators: Another Level of Excellence
Cash discriminators can do everything that a cash counter can do. However, they can handle even more currency-related tasks for you, such as:
● Integrate with your point-of-sale workstations and receipt printers so you can streamline reporting and accounting.
● Track currency in your drawers and ensure they contain the proper denominations.
● Sort and rearrange bills by denomination for easier banding.
By aligning so closely with your point-of-sale workstations, a cash discriminator can automate key processes you go through each day, making the devices a huge time saver. What's more, they can detect double notes and similar issues, further protecting you from losses and accounting problems.
All told, these capabilities add up to a situation in which you don't have to handle cash as often. This reduces the likelihood of human error and, in turn, can save you from time – and energy – consuming problems.
Get the Right Cash Management Tool for Your Business
Bottom line: Cash counters and discriminators can save you time… but you need more than just good hardware.
Support and service are vital in maximizing the value of your investment. Getting the best performance possible out of your cash counter depends on the support systems surrounding it, and a good vendor won't just sell you hardware – they'll provide responsive and ongoing service over the life of the product.
At Superior Press, we exclusively sell Semacon cash counters and discriminators, ensuring you get the highest quality of hardware and support. We can work with you to identify the best model for your needs and help you get as much value as possible from your new device.