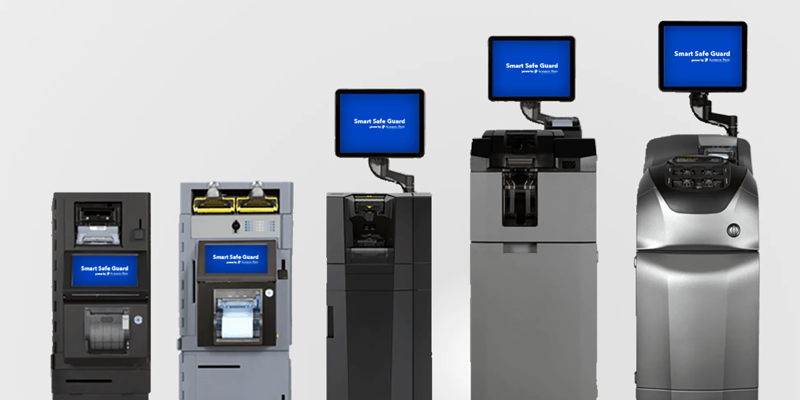 From national restaurant chains to large-scale entertainment venues, the business case for smart safes is obvious: the technology eases cash flow management and provides a high degree of safety and accountability. But many smaller organizations have resisted the upgrade due to concerns about costs and value potential when handling smaller amounts of cash.
However, the rise of electronic payment and card-based spending makes cost-efficient cash processes especially important. If most of your business handles cash often, then going to the bank every day with a deposit isn't a big deal. If you're spending just as much time processing cash but for only 20 or 30 percent of your sales, then your costs relative to revenue skyrocket.
Smaller organizations can use smart safes to alleviate this issue, creating a variable cost for cash management that better reflects operational realities. Here are seven specific businesses where this is particularly valuable.
1. Distributors and manufacturers
Smart safes provide integrated cash management, using transactional data to tabulate the amount of money in each safe. For manufacturers and distributors with work spread over multiple warehouses and field locations, tracking transaction data alongside cash placed into the safes can have a transformational impact on how managers manage currency on a day-to-day basis.
2. Convenience stores
End-to-end services surrounding smart safes, like what we offer at Superior Press, can eliminate trips to the bank entirely by combining pre-credit made available based on tracked deposits in the smart safe with periodic armored car pickups to bring funds to the bank.
3. Grocery stores
Grocery store leaders can give employees smart safe pins so they can track who adds funds to a safe and when, ensuring that money goes directly from the cashier drawer to the safe without any form of cash shrinkage taking hold.
4. Gaming/casino establishments
With cash handled at a high volume by varied employees and across disparate locations in the facility, gaming establishments and casinos can benefit from all of the advantages offered to manufacturers, convenience stores and grocery retailers.
5. Nonprofits and professional services firms
Many nonprofits and professional services firms have moved to a primarily electronic or payment card-based system by now, making cash only a small part of income. However, this makes time-consuming, manual cash management processes particularly expensive and cost-inefficient. Smart safes can fill that efficiency gap and resolve nagging issues created by only occasional cash interactions.
6. Financial services companies
Implementing smart safes can position small financial services firms to create true transparency into their cash assets, eliminating human error, minimizing shrinkage and ensuring funds at teller stations are validated at all times. The breadth of services offered to accompany smart safes takes these benefits to another
7. Health care companies
Physician offices, clinics and similar small-scale healthcare companies can use smart safes to better manage cash across its life cycle. Businesses can:
Eliminate shrinkage by tracking transactions alongside employee pins used when accessing safes.
Take advantage of pre-credit to eliminate the need for frequent bank trips to make deposits.
Greater staff efficiency as cash management innovation simplifies operations.
Drive cash management innovation with Smart Safes
Smart safe investments aren't just about the hardware. Instead, they're about the blend of capabilities and services that accompany smart safes to solve longstanding cash management challenges facing businesses.
That's what we're doing at Superior Press through end-to-end cash management solutions that drive meaningful innovation. Reach out today to learn more about what we can offer your organization.